Local Printer Honored for Management Skills
FOR IMMEDIATE RELEASE March 18, 2011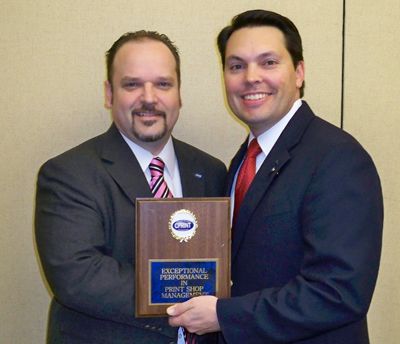 Bret Atwood, Atwood's Printing and Mailing, Richmond, VA, received the top management award from CPrint® International during its semi-annual board meeting in Jacksonville, Florida. Each six months, CPrint® selects the printer who has demonstrated the most significant positive changes in their company over the past six months from among its participants.
According to Todd Nuckols, CPrint® president, Atwood's Printing and Mailing is among an elite group of companies whose growth and profitability are increasing in the face of ever increasing competition. "Atwood's Printing and Mailing continues to prosper as it focuses on principles and practices geared to exceptional service to both customers and opportunities for staff," said Nuckols. "Atwood's Printing and Mailing is achieving success by being the best print provider for its business customers."
CPrint® is an organization of independently owned family-based businesses that strive for professionalism and performance among small business that commonly lack highly developed systems and leadership. Companies from throughout North America participate in the program.
The CPrint® designation is available only to printers who demonstrate exceptional quality and service by maintaining standards in operations, training, equipment and software as well as worker benefits and working conditions. This program requires annual onsite recertification as well as participation in continuing educational programs.
Atwood's Printing and Mailing is located at 5635 South Laburnum Avenue, Richmond, VA. For more information about the company, call 804-226-1500, or visit the company's website www.atwoodprint.com
For more information contact:
Clark Workman
CPrint® International
4710 Chimney Drive
Charleston, WV 25302
(304) 965-7100
www.cprint.org